The Oregon Joint Use Association was involved with a workshop held on July 18, 2013 at the Oregon PUC Office. Attached is the OJUA presentation presented to the PUC & workshop attendees.

OJUA PRESENTATION July 2013 – PowerPoint Version
OJUA PRESENTATION July 2013 – PDF Version
Reference Card – to download click here.
2009 Standards Manual - (Be patient – very large file!)
To submit NESC violation pictures
mailto:gro.aujonull@snoitaloivcsen
Request for Assistance
The Oregon Joint Use Association, through its Standards Committee, is involved in two projects to assist pole owners and users throughout Oregon in coordinating inspection efforts, saving time and money, and expediting communication. Your assistance in furthering these projects is greatly appreciated.
Tagging Procedures Because companies employ a variety of methods for tagging their facilities, it is sometimes difficult for workers to interpret tags belonging to another company. The OJUA would like to publish schematics of pole tagging methodologies for individual companies on the OJUA web site for easy reference. To that end, please take a moment to respond to the following:
Do you tag all your poles? (if not, explain)

What do your tags look like? (color, size)

What is the logic system used for your tags (township & range, lead, closest physical address, etc.)

Do you place your tags on poles that you do not own? If you are currently altering your tagging system, please explain.
Mapping OJUA is also in the process of updating its utility maps which are posted in the "Members Only" section of its web site at www.ojua.org.
The purpose of these maps is to assist companies in identifying and contacting other companies within their service areas in an effort to promote joint inspection projects, thereby reducing inspection costs through shared efforts and avoidance of duplication. Please review your area maps and report any changes relating to companies that may have been omitted, companies that are no longer in business, changes in company names, boundary errors, etc.
Please send responses to both of the above questions by replying to this email or by forwarding your responses to gro.aujonull@ofni.
OJUA Pole Tagging Program
OJUA recommends implementing a pole tagging program to accurately identify pole owners and licensees.Suggested installation practices have been developed by the OJUA Standards Committee:
Pole Tagging Installation Practice
OJUA has negotiated a reduced rate for tagging supplies:
Pole Tag Supply Order Form
History of the OJUA
In November 1999 a task force was established by the Oregon Legislature to advise the Oregon Public Utility Commission at the direction of the Oregon Legislature to address issues perta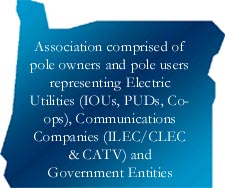 ining to utility poles. The task force submitted proposed rules for determining appropriate sanctions for unauthorized attachments and criteria for certifying compliance with laws regulating pole attachments. The Oregon Joint Use Association (OJUA) was formed based on the initial work from the task force and the realization of what else needed to be accomplished to help the entire industry be successful.
Our Mission
Become a resource that builds trust, cooperation and organization between support structure (pole) owners, users and government entities that will result in a safe efficient use of the Right of Way and a self-sustaining nonprofit association.
Our Future
Be a fully self-sustaining association that educates, establishes partnerships and is the source of information and communication regarding the Joint Use Industry.
Focus
Publicity & Education

Standards Development

Legislative & Regulatory Review

Conflict Resolution
Benefits
Participate in shaping the future

Educational Opportunities

Cost Saving Opportunities

Access to latest Industry